Irish potato market heavily reliant on GB re-exports
It may come as a bit of a surprise to many, but Ireland is a net importer of potatoes.  Historically, the United Kingdom has been by far Ireland's biggest source of fresh potato imports with nearly two-thirds of all fresh potatoes being imported from UK.
According to official trade stats, the Republic of Ireland (ROI) imported just under 100,000 tonnes of fresh potatoes last year from Great Britain while Northern Ireland (NI) imported a further 40,000 tonnes.  That equates to an estimated 450 million individual potatoes (or around 90 potatoes per person).  For all sectors (Fresh, frozen, processed, crisped) that figure rises to 185,000 tonnes (raw equivalent) of potatoes exported annually from UK as a whole to ROI.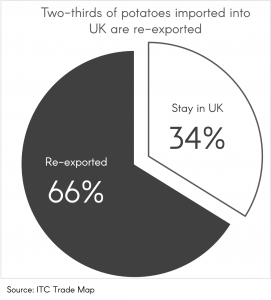 In total, nearly two thirds (61,000) of fresh potatoes imported into Ireland in 2019 were imported from Britain.  Inter-Ireland trade is also an important element with around 10% of the Republic of Ireland's potato imports coming from just across the border in Northern Ireland.
With the UK's transition period for leaving the European Union (EU) due to come to an end on 31 December 2020, new trading arrangements will come into force.
We believe Irish importers and wholesaler will increasingly turn towards building relationships with suppliers in France, Belgium and the Netherlands to source potatoes for import into Ireland to avoid the new customs friction and overheads.  HANNON Transport will be able to provide smooth door-to-door delivery of EU goods either via T2 Internal Transit (GB land bridge) or direct ferry.
In preparation, the HANNON Group has established a new operating base in Rungis International Market, PARIS to complement our hub in Rotterdam, Netherlands.
We have also developed relationships with customs agents who will be able to speedily and very cost-effectively process T2 Internal Transit which will be required should goods travel via the GB land bridge rather than a direct ferry route. (Direct EU – Ireland ferry routes will require no customs at all for EU goods of origin)


Get in touch to see how you can access EU suppliers after BREXIT