Heavy snow in France but wheels keep turning at Rungis International Market, PARIS
There was heavy overnight snow across much of northern France last night with widespread disruption of many minor routes.  Most arterial routes in and around Paris and Val-de-Marne were kept open.  In general the overnight fruit and vegetable deliveries from Italy, Spain and wider France went well and our loads were able to drop and pick up backloads.
With the A86 & A13 continuing to flow well to and from Cherbourg we expect our direct services to Ireland to continue to run as planned.
Safe trip to all out on the road.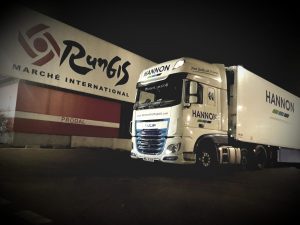 If you would like to find out more about our daily France – Ireland groupage service get in touch…
Liam Mundow

Hannon Logistics SAS (France)
Tel: +33 1818 05515

Email : liam@hannonlogistics.fr

Gavin Marsden

Hannon Transport Ltd (Ireland)
Tel: +44 28 9265 1441

Email : gavin@hannontransport.com
PARIS – ROTTERDAM – DUBLIN
Chilled, Frozen & Dry Freight
ANY ORDER SIZE FROM 1 PALLET TO FULL LOAD
Over 25 years experience
Over 400 dedicated employees, working from several European hubs, delivering operational excellence.