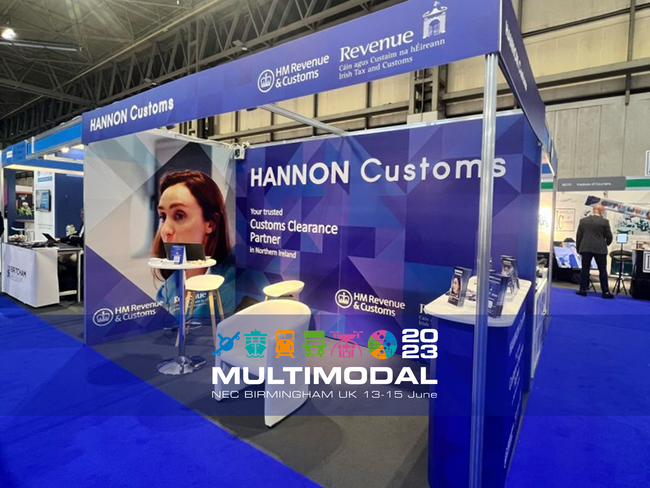 HANNON Customs at MultiModal 2023
Our colleagues in HANNON Customs are attending MultiModal 2023 at the NEC in Birmingham 13-15 June 2023.
DAY 1
We are exhibiting at
MULTIMODAL 2023
Visit us at
Stand: 8071
#multimodal2023 is only started a matter of hours and already our HANNON Customs team at the NEC Birmingham has been incredibly busy talking to a steady stream of business and entrepreneurs keen to find a reliable Customs Clearance Partner for GB to NI & GB to ROI consignments.
If you are planning to attend Multimodal at the NEC this week, drop in to talk to our expert team to get some advice, see what we can offer, and take advantages of the range of direct and indirect customs clearances our expert team provides.
Visit HANNON Customs at Stand 8071
About MultiModal 2023
Multimodal is the logistics industry's annual meeting place where cargo owners and shippers attend to find ways to improve their supply chains and discover innovative ideas to solve their transport and logistics issues.  With over 300 companies exhibiting and thousands of industry stakeholders attending, we are excited to showcase our expert Customs Consultancy and Customs Clearance services.
About HANNON Customs
HANNON Customs offers a comprehensive end-to-end customs service for businesses engaged in trade between Great Britain (GB) and Northern Ireland or GB and Republic of Ireland.  Its dedicated team of customs experts ensures smooth customs clearance processes, compliance with regulatory requirements, and minimises the risk of potential financial penalties.
The HANNON Group has invested heavily in developing our own, in-house specialist Customs Clearance Teams.  We have built up a wealth of knowledge and experience in customs clearance.  Every day we help new and established customers continue to move thousands of food and fresh produce consignments across Europe's new frontiers safe in the knowledge that their customs requirements are being handled by our integrated, specialist customs clearance teams.
If you would like to find out more about the customs requirements moving fresh produce between Ireland, UK and EU mainland check out our customs knowledge base.
Why Choose HANNON Customs?
Based in Northern Ireland with industry expertise and proven track record using Trader Support Service (TSS) for hundreds of consignments on a daily basis.
In-house legal team ensuring strict compliance from outset and minimising potential infringement risks.
Up-to-date knowledge of regulatory changes and requirements.
Personalised, expert assessment of your needs.
Personalised guidance and support at every stage of the customs clearance journey.
Tailored templates for your consignments to navigate NI Protocol & Windsor Framework procedures and regulations.
Expert assistance in navigating complex NI Protocol customs documentation.
Dedicated, in-house Customs Clearance Team ensuring accuracy, reliability, and peace of mind.
Trusted support for import and export compliance with streamlined processes to optimise trade flows and maximise efficiency.
Collaborative relationships with HMRC and Irish Customs.
Experience is Key to Customs Clearance
When it comes to dealing with customs requirements there is no substitute for experience in ensuring your consignment movements are transported without unforeseen issues.
Since the UK's departure from the EU, customs requirements have grown exponentially for meat, dairy, foodservices, fresh fruit and vegetable, horticultural and fresh cut flowers sectors.
New customs procedures can at first seem daunting.  In reality, once understood, a lot of the new procedures can be straightforward.  However, while straightforward, customs clearance procedures can present challenges for those unfamiliar with the processes, particularly in the unique time-sensitive and time-pressure world of moving fresh food produce and food logistics.
Few logistics operations are as demanding as food logistics
Few logistics operations are as demanding as food logistics.  Shelf life and freshness are key and the clock is always ticking.
As specialists in temperature controlled logistics, we understand that temperature-sensitive consignments of perishable goods need to be handled carefully and transported efficiently to preserve freshness and integrity.  To ensure the quality of service, we operate using our fully owned fleet and facilities offering a closed-loop service to customers.
We have taken the same approach when it comes to customs clearance.  The HANNON Group has invested heavily in developing recruiting and training our own in-house customs teams to maintain the resilience of our services to ensure the supply chains of our customers continue to run smoothly.
Customs Clearance adds Increased Complexity to Food Logistics
New customs procedures following the UK's departure from the EU are now an integral part of food logistics if you are moving goods to or from GB or from EU mainland through GB using the UK landbridge and the transit procedure.
Fresh food produce customs clearance involves an extra layer of complexity over and above, say, dry freight.  Fresh food produce is typically either Sanitary and Phytosanitary (SPS) or Products of Animal Origin (POAO) which require detailed documentation over and above simple Import Safety and Security Declaration (ENS), Pre-Boarding Notification (PBN), etc.
Familiarity is Key to Successful Customs Clearance
Understanding the procedures is one thing – completing the procedures accurately and efficiently under the time pressures involved in fresh produce and food logistics is a different ball-game.
Our experienced in-house Customs Administration Team deals with thousands of customs consignments and submissions every week.  Our  customs teams are specialists in ensuring fresh food consignments successfully navigate any customs requirements and move in and out of Ireland without a hitch.
Find out more about our In-house Customs Clearance Service.
HANNON Customs Clearance Service
Imports – AIS (Ireland) / CDS (GB)
Exports – AEP/AES (Ireland) / CHIEF / CDS (GB)
Transit Guarantee held in IE, XI & GB
Strong relationships with DAFM, DAERA & DEFRA
Key contacts in Irish Revenue & HMRC
Strong experience with Traces & CHED's
3 trained teams in Ireland dealing with separate customs flows
Internal compliance checks completed on a routine basis
Ongoing training with HANNON Head of Legal & Compliance
Strong process knowledge regarding Border Control Posts for RORO movements (over 75,000 ferry crossings per year)
Transport & Customs Clearance Combined
Combined with our fully-owned fleet and facilities, our Customs Clearance Service offers a seamless one-stop-shop for customs and transport.  This vertical approach minimises both overhead and opportunity for breakdowns in communications or delays in paperwork.

Customs Only Service
Equally, we can provide a transport only service to those who wish do do their own customs paperwork or perhaps use a separate 3rd party customs agent to complete the necessary procedures.
Our team is happy to provide advice regarding customs so that you make the right choice to ensure your goods continue to move as smoothly as possible.

CUSTOMS CLEARANCE TEAM
To talk to us about how our Customs Clearance Service could help your business.
Hannon Transport Customs Team
Tel: +44 (0) 2894 548099
CustomsTeam@hannontransport.com
HANNON Transport – Temperature Controlled Logistics – Ireland, UK & Europe
Our highly trained teams operate from bases in Northern Ireland, Rotterdam, Dublin & Paris.  Specialising in deliveries of time-sensitive fresh produce within a fully traceable company-owned network.
We offer the Irish temperature controlled fresh food sectors daily full load (FTL) services with our refrigerated fleet covering all of mainland Europe.  Groupage (LTL) service also available from as little as 1 pallet.
Contact
sales@hannontransport.com

Benelux & northern France to Ireland
HANNON Transport can offer a reliable and cost-effective route for Irish soft fruit and berry importers and wholesalers doing business with suppliers in Netherlands.
Our highly experienced team has a long track record of delivering innovative, reliable, and scalable transport solutions.  Whether it's one pallet, a full load or a multi-load consignment we have the people and resources that can deliver for you.
Typically, we can collect your consignment from your supplier in the Netherlands by 2pm Day 1 and have it delivered to your premises in Ireland the next day.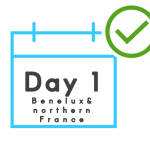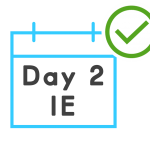 Our fully in-house Customs Administration Team provide complete customs administration solutions to ensure products move cross-border without delays.

HANNON Transport
Temperature Controlled Logistics
Ireland, UK & Europe
Get in touch to find out more about our daily refrigerated services providing transport and customs for consignments of soft fruit between Netherlands and Ireland…
Watch our video to see what we do…
Chilled & Frozen Logistics
Europe, UK & Ireland
Over 25 years experience
Over 400 dedicated employees, working from several European hubs, delivering operational excellence.