HANNON Transport at Rungis International Market, PARIS
HANNON Transport at work in Rungis International Market, PARIS
Our new transport hub at the World famous Rungis International Market is a real non-stop 24-hour operation.  Full load of Irish meat arrived yesterday evening and picked up by customer last night at our platform in the heart of Rungis.
Quick wash of the truck and our double-driver team Rade and Katy still had time to take this great shot and send it in to us before getting an overnight rest. (many thanks guys 👍👍👍)
Loaded up this morning with Broccoli, Clementine and Spanish Salads for the Irish market. Left #Rungis at mid-day for Channel Tunnel, GB landbridge and then Holyhead to Dublin ferry.
If you are picking up a salad this weekend it could be one of these!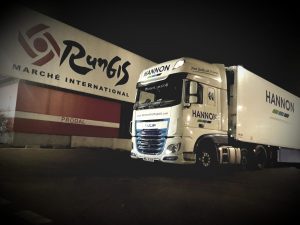 If you would like to find out more about our daily France – Ireland groupage service get in touch…
Liam Mundow

Hannon Logistics SAS (France)
Tel: +33 1818 05515

Email : liam@hannonlogistics.fr

Gavin Marsden

Hannon Transport Ltd (Ireland)
Tel: +44 28 9265 1441

Email : gavin@hannontransport.com
PARIS – ROTTERDAM – DUBLIN
Chilled, Frozen & Dry Freight
ANY ORDER SIZE FROM 1 PALLET TO FULL LOAD